cardot share car alarm installation information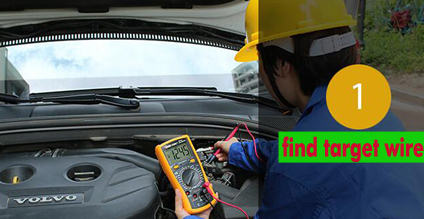 how to find cardot car alarm 6P start wiring harness?
Tuesday, 25 February 2020

0

5235

0
cardot tell you how to find target wires?
1.find red 12V wire,i checked your picture,big red wire should be 12V,connects to our red wire of 6P start wire
2.please use test pencil or multimeter to find other wire,now let us find ACC wire,your photo shows 6 wires.you can use test pencil to test wire,if it is ACC wire,use your OEM remote key to insert to ignition key hole,turn it to 1st position,that wire with power is ACC wire when you turn key to 1st position of ignition switch.this wire connects to our white wire!
3.how to find ON wire?Turn OEM key to 2nd position of ignition switch(entire car body will be power on when key is on this position),that wire with power is ON wire when key to 2nd position.
but ON has ON1 and ON2 difference,that wire with temporary power off when you trun key from the 2 second position to ignition position,this is ON 1 wire,connects to our yellow wire of 6P start wire,if it is constant power on when you turn key to the 2nd position,it is ON2 wire,connects to our green wire of 6P start wire.
if 2pcs ON wires of your car both contant power on when the key is on the 2nd position,never power off,joint them together ,and then connects to our white wire of 6P start wire!
3.find start wire:
use your OEM key and turn it to ignition position,that wire with 12V power is start wire when your key is on the ignition position!connects to our blue wire
Please buy product from cardot alibaba website or aliexpress store if you have not paypal account!



Your cart is currently empty.